Main Content
Hamish MacBeth Mystery Series, Book 14
Scotland's lovable Hamish Macbeth -- the one-man village police force -- investigates the death of an actress and a television writer in the latest episode of M. C. Beaton's popular series.In her day,...More
Scotland's lovable Hamish Macbeth -- the one-man village police force -- investigates the death of an actress and a television writer in the latest episode of M. C. Beaton's popular series.In her day,...More
Available formats
-
Kindle Book
OverDrive Read
Adobe EPUB eBook
Adobe PDF eBook
Description
-
Scotland's lovable Hamish Macbeth -- the one-man village police force -- investigates the death of an actress and a television writer in the latest episode of M. C. Beaton's popular series.

In her day, Patricia Martyn-Broyd was a well-known writer of mysteries featuring the aristocratic detective Lady Harriet Vare. Now in her seventies, the author has settled in the village of Lochdubh to enjoy her retirement. Learning that one of her old novels will be produced for television, she can hardly contain her excitement. Her enthusiasm turns to rage however, when she discovers that the role of Lady Harriet has been transformed into a pot-smoking hippie. And when both the lead actress and the hack scriptwriter are found dead, it's up to Hamish Macbeth to clear the author's name...by finding a murderer with a plot all his own.
Excerpts
-
From the book CHAPTER ONE

Alas, that Spring should vanish with the Rose!
That Youth's sweet-scented Manuscript should close!

-- Edward Fitzgerald

Patricia Martyn-Broyd had not written a detective story in years. In her early seventies she had retired to the Highlands of Sutherland on the east side of the village of Cnothan, to a trim, low, whitewashed croft house. She had now been living in the outskirts of Cnothan for five years. She had hoped that the wild isolation of her surroundings would inspire her to write again, but every time she sat down in front of her battered old Remington typewriter, she would feel a great weight of failure settling on her shoulders and the words would not come. For the past fifteen years her books had been out of print. Yet her last detective story, published in 1965, The Case of the Rising Tides, featuring her Scottish aristocrat detective, Lady Harriet Vere, had been a modest success.

Patricia looked remarkable for her age. She had a head of plentiful snow white hair, a thin, muscular, upright figure and square "hunting shoulders." Her nose was thin and curved like a beak, her pale blue eyes hooded by heavy lids. She was the daughter of a land agent, dead many years now, as was her mother. Patricia had been head girl in her youth at a school more famed for the titles of its pupils than for educational standards. A crush on her English teacher had introduced her to reading detective stories, and then, after an unsuccessful spell on the London scene as a debutante, she had decided to write.

She had never forgotten the thrill of having her first book published. Her plots were complicated and thoroughly researched. She was fond of plots involving railway timetables, the times of high and low tides and London bus routes. Her main character, Lady Harriet Vere, had grown up, as Patricia herself had grown up, in a world where everyone knew their place in society and what was due to their betters. Light relief was provided by a cast of humorous servants or sinister butlers and gardeners and clod-hopping policemen who were always left openmouthed by the expertise of Lady Harriet.

But as the world changed, Patricia stayed the same, as did her characters. Sales of her books dwindled. She had a private income from a family trust and did not need to find other work. She had at last persuaded herself that a move to the far north of Scotland would inspire her. Although her character, Lady Harriet, was Scottish, Patricia had never been to Scotland before her move north. There was a stubborn streak in Patricia which would not let her admit to herself that she had made a terrible mistake and added the burden of loneliness to the burden of failure.

She had recently returned from a holiday in Athens. The weather in Greece had been bright and sunny, and in the evenings, the streets of Athens were well lit and bustling with people. But all too soon it was back to London, to catch the plane to Inverness. The plane had descended through banks of cloud into Heathrow. How dark and dismal everything had seemed. How cold and rainy. How grim and sour the people. Then the flight to Inverness and down into more rain and darkness, and then the long drive home.

The county of Sutherland is the largest, most underpopulated area in western Europe, with its lochs and mountains and vast expanses of bleak moorland.
About the Author
-
M. C. Beaton lives in the Cotswolds with her husband. In addition to the Hamish Macbeth series, she writes the Agatha Raisin mystery series.
Reviews
-
Atlanta Journal-Constitution "This series is pure bliss."
Chicago Sun-Times "Macbeth is the sort of character who slyly grows on you . . . as you realize that beneath his unassuming exterior, he's a whiz at cutting through the hokum."
Digital Rights Information
+
Copyright Protection (DRM) required by the Publisher may be applied to this title to limit or prohibit printing or copying. File sharing or redistribution is prohibited. Your rights to access this material expire at the end of the lending period. Please see

Important Notice about Copyrighted Materials

for terms applicable to this content.
You already have this title checked out.
×
Recommendation Limit Reached.
You have reached the maximum number of titles you are permitted to recommend at this time.
×
To recommend Death of a Scriptwriter, complete the following information:
We respect your privacy. Any and all information collected at this site will be kept strictly confidential and will not be sold, reused, rented, loaned, or otherwise disclosed.
×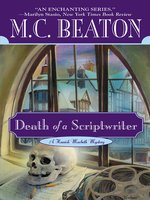 Death of a Scriptwriter
Hamish MacBeth Mystery Series, Book 14
M. C. Beaton
×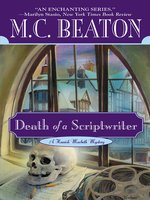 Death of a Scriptwriter
Hamish MacBeth Mystery Series, Book 14
M. C. Beaton
Choose a retail partner below to buy this title for yourself.
A portion of this purchase goes to support your library.
Clicking on the 'Buy It Now' link will cause you to leave the library download platform website. The content of the retail website is not controlled by the library. Please be aware that the website does not have the same privacy policy as the library or its service providers.
×